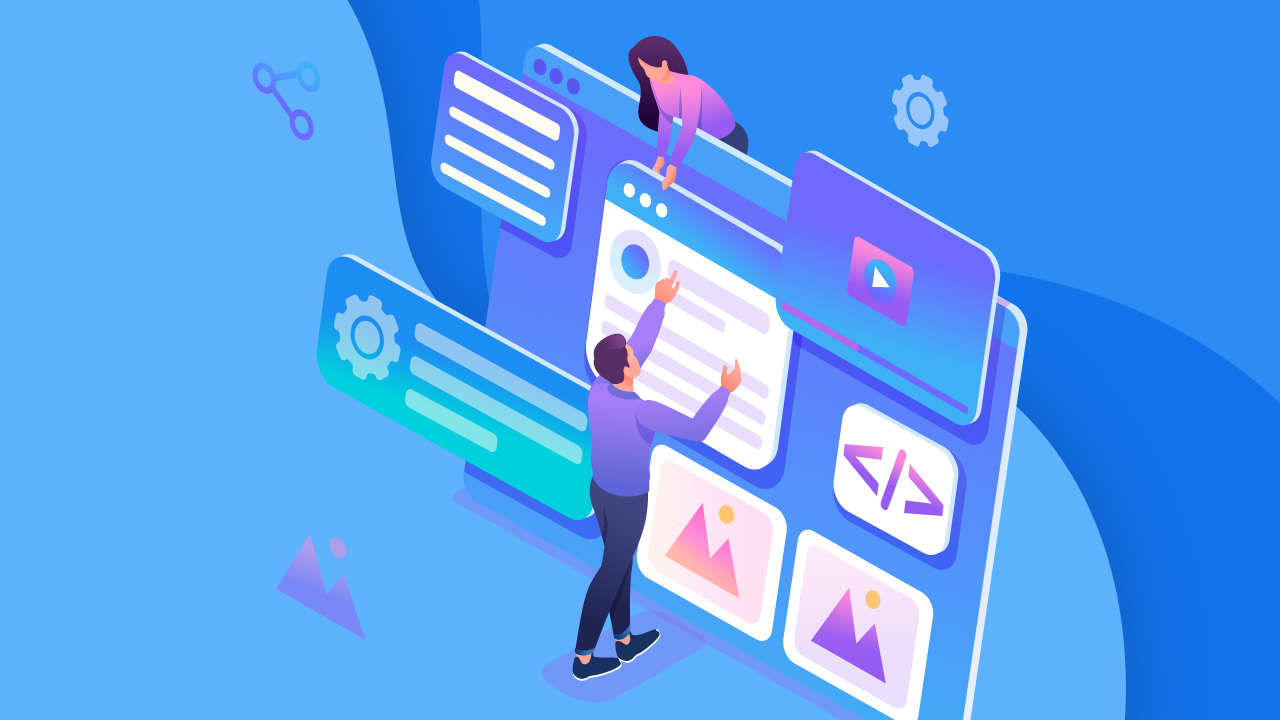 This ever-changing digital landscape indicates that trends can also become outdated very quickly so businesses need to make sure their website is engaging and current with the modern trends. From the COVID-19 pandemic to a contested presidential election and a new wave of social justice movements, 2020 was a year to remember. Most people don't think about how technological advancements and wide-ranging societal events affect design but when creating for the fast-paced web, web developers and designers need to be well aware of the wider trends. There are a number of trends stemming from 2020 to be considered as we design for the web in 2021. To help keep you ahead of the curve, we've put together a few trends that we expect will map out the future of web design in 2021 and beyond, should you have the right web design tools to implement them.
Modern minimalism
Not only is modern web design more aesthetically pleasing to look at, but many modern websites offer a simpler and more streamlined user-experience in 2021. This is simply due to the rise in wearable technology, causing web designers to incorporate a minimalistic style of design consisting of less visual style and more of a design principle to accommodate the extremely small and wearable devices. Generally minimalistic design involves using only the essential elements like clean texts, basic shapes, limited color pallets and lot of empty spaces. This assists in creating something simple yet functional and memorable. A great example for minimalistic design is the website of Shopify. Each page offers a blog background color with minimal design elements and readable text to grab the user's attention. This proves that minimalistic design can make your website look simple without being too plain or boring and yet be effective.
Dark mode
While using bright background colors in your web design expresses a simple and minimalistic aesthetic, it can also be uncomfortable and exhausting to the eyes in the long run. The dark mode functionality got trendy in 2020 with most of the tech giants like Twitter, Instagram, YouTube, Facebook and WhatsApp making use of the feature and is set to become more popular in 2021 for various websites and mobile apps. In addition to being easy on the eyes, this feature offers a great contrast for texts while allowing other design elements to stand out so as to make sure the content can be read better even under the bright sunshine. Furthermore, dark mode offers the additional benefit of reducing battery consumption on your device. Today, many operating systems like Apple and Android are also giving users the choice between light and dark mode which is interchangeable depending on their preference. With most of the online platforms and companies catering to the urban-tech population, the dark mode feature is becoming a widely popular option for internet and smartphone users worldwide.
Augmented reality (AR)
When it comes to online shopping, Augmented Reality (AR) offers a wide range of completely new user experiences and has the potential to change the way we interact with websites and mobile apps on a fundamental level. Effectively, Augmented Reality bridges the gap between reality and virtual reality. The benefit of this technology is that users can perform activities based on their current location, for example, by using the camera function of a smartphone, they can see computer generated images layered over the top of their actual surroundings. Although designing for AR can be an intimidating concept even for professional designers, in truth, it is just a different form of technology that designers can use to drive better experiences for end-users.
Smart content loading
As long as websites exist, refining website loading time is always going to be one of the leading web design trends and 2021 will see further development in terms of improving user experience. Smart content loading is a strategy that will only download content depending on the user's specific needs which helps speed up page load time. It is an extension of lazy loading, which is another popular approach with long, one-page sites that only downloads the content you need to see on the screen, without wasting valuable time and resources to load off-screen content that the user may never view. Smart content is helpful in personalizing the buyer's journey which enables you to build a relationship with current and future customers.
With the COVID-19 pandemic and many businesses switching to online marketing, we expect to see plenty of bold and eye-catching websites that make use of animations and videos to improve their look and functionality in 2021. Updating your website' design can have a positive impact on your brand and revenue. If you're looking for a modern and user friendly website to take your brand to the next level, reach out to our team of experts at Goodsane Sdn. Bhd today! Feel free to call us at +60 82 522 756 or send us an email at Goodsane.com to schedule a consultation.