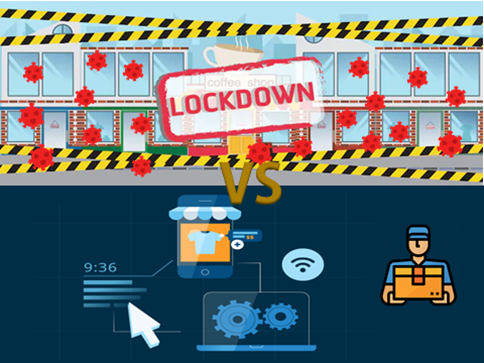 E-commerce businesses are allowed to operate during Covid-19 lockdown period in Malaysia, and currently, COVID-19 cases keep increasing in Sarawak and maybe the 2nd wave of COVID-19 is sooner as we think. This causes consumers to be afraid to shop in crowded places. During this period, e-commerce businesses take precedence as most Malaysians prefer to shop at home and receive shipments to their home without going to a physical shop.
Therefore, you should move forward during this period in order to get your business survival. Here are some tips for you if you are still wondering, "Why should I move my business online with this coronavirus crisis?" and "How can I move my business online in this period of time?".
Why should I move my business online?
1. Your target customer is moving to online
Malaysian consumers are looking for convenience as they prefer to shop at home and receive the goods at home. Do you know in East Malaysia, shoppers are more likely to spend more time shopping online than in West Malaysia. According to a survey conducted by 11 Street, shoppers in East Malaysia spends 75% more time searching for products online compared to shoppers in West Malaysia, they spend 11% lesser time shopping online. And, 59% of online shoppers shop at least once a month (Export.gov, 2019). As a result, it shows that Malaysian shoppers are adapting to shop online.
2. Stand out of your competitors
Many of your competitors are moving to online, if you do not follow the trend, your competitors will get ahead of you. Therefore, you should move to online before your competitors go ahead of you. Moving online also helps you better serve your target customers and easy to retain them.
How can I shift my business online?
1. Creating a Facebook Page
If you wish to start an online business with a minimum budget, you can start up your online business by creating a Facebook page. As you can create a free Facebook account for your online business. Once you have started your business through Facebook, you can consider running pay ads. Running Facebook ads to promote your online business will be effective to target your qualified consumer in order to achieve sales targets.
If you lack a management team to manage your online business on Facebook or either lack the knowledge to write great content, don't worry about that, you can find us to help you manage your social media business. As we provide social media management service and content marketing service to help you get ahead of your competitors.
2. Create a website
You can start to build your website with Wix, WordPress, open-source or either asking professional software developers to help you building and designing a website. Think about the content and expectations of your business before deciding which software is best for you.
For example, if you offer pet food supply, you might want to start a blog, and video for tutorials where you can give tips on recipe meals for pets and how to take care of your pet. This will help you to turn your leads into sales. Remember, involve call-to-action like "Buy Now", "Appointment Now" buttons on your website to enable your visitors to take action.
Exhibit 1: Chewy.com - Blog post
Source: Chewy.com
Exhibit 2: Chewy.com - Video Tutorials
Source: Chewy.com
If you need help to create a stunning website, you can call us to get your free proposal. We can help you start up your online business in a short period of time.